Fall of 2009, Cage The Elephant was the opening band for the opening band for Silversun Pickups at Revolution Room in Little Rock.   Now, just 18 months and two Rev appearances later, the boys from Bowling Green, KY are headlining their own three'fer – and are just as humble and personable as ever.  Success has not gone to their heads.
Once the tour bus parked behind Revolution's restaurant, Matt spent much of the afternoon out on the patio, hanging out and talking with fans.
Guitarist Brad Shultz was around the side of the stage early watching Sleeper Agent, the opening band for the opening band for Cage, also from Bowling Green.  Brad commented that Sleeper Agent was one of his new favorite bands.  I'm not sure how many Cage fans noticed Brad in the audience later that first set.  If you arrived to the show after 9pm, you missed a fantastic opener.
With two albums under their belt now, Cage The Elephant brings a hour long set of sing-a-long songs.    Matt dedicated two of the band's well known hits: "Shake Me Down" to the Little Rock audience and, "Ain't No Rest For The Wicked" he dedicated to "the douchebag who broke into my house this morning and stole all my crap."
Matt seems to have refined his  "fish out of water" on stage presence with more dance moves to accompany his frantic head bobbing, in fact, it's reminiscent of a young Mick Jagger at times.  Matt's perfected his signature crowd surfing as well, to the point that the third and final time he stood over the audience in a cheerleader "top of the pyramid" pose.   (There should be about two dozen iPhone shots somewhere on the net.
I was told by Cage's tour manager that the boys will be golfing somewhere in the Natural state on Thursday, taking some time for R&R before another energetic and intimate show Friday night at George's Majestic in Fayetteville.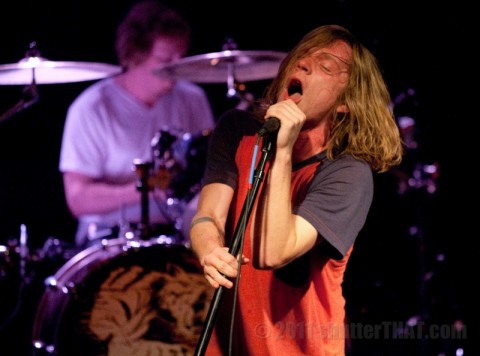 more from the show at shutterthat.com/albums/cagetheelephant2011