Photographer Tim Vahsholtz
---
Bully blasts onto the stage at Stickyz with their bangin' punkish rock.  Touting the new debut album, "Feels Like," lead vocalist Alicia Bognanno speeds through the set (that's the way the songs are meant to be delivered). She's definitely got "it" on stage. The Nashville group is touring during the first part of 2016.
Opening for Bully, a 2 piece act called "Diet Cig."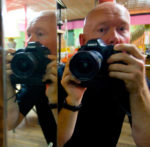 My mission is to tell a story through pictures.  My favorite type of photography is live music.  I strive to capture the emotion of the moment, often framing more than one artist in shot.
---